Regular price
Sale price
$19.99
Unit price
per
Sale
Sold out
Availability : 290 item(s) in stock!
Estimated delivery : Friday, 15 December - Saturday, 23 December.
Description:
100% Wild, Naturally Cleansing, Raw Chaga Tea with wild dandelion root
NET WT. 2 OZ. (56 grams)
ChagaBrew is a unique forest tea blend consisting of raw chaga, birch bark, rose hips, complemented by the robust flavors of wild dandelion root. The dandelion root imparts a flavor profile reminiscent of black coffee, making ChagaBrew a favored alternative for those seeking variety in their beverage choices.
The blend includes chaga and birch bark, recognized for their rich content of antioxidants and compounds such as sterols, polyphenols, betulin, and betulinic acid. ChagaBrew is also infused with minerals like copper, iron, magnesium, and potassium, along with B vitamins, and antioxidant enzymes, including SOD (superoxide dismutase).*

Directions: For a luscious drink add one teaspoonful or more of Wild Chaga Brew to a cup of boiled water. Or, add 3 or more teaspoonsful to a 32-ounce thermos filled with boiled water. The hot water extracts the active ingredients. Always reuse the grounds.

Ingredients: Wild, raw chaga, raw birch bark, dandelion root and rose hips.

NET WT. 2 OZ. (56 grams)


Please note that these statements have not been evaluated by the Food and Drug Administration. This product is not intended to diagnose, treat, cure, or prevent any disease. As with any dietary supplement, it is advisable to consult with a healthcare professional before incorporating new products into your routine.
Ingredients:

wild, raw chaga, wild, raw birch bark, roasted, wild dandelion root, wild, raw tamarack bark, and organic, purple maca root Concentrate

Net Wt:

3.2 oz
Purely Wild ships orders within two business days via UPS Ground, providing tracking numbers within 72 hours of order confirmation for easy monitoring of your shipment's progress. Purely Wild offers refunds within 10 days of purchase for undelivered, defective, or not-as-described merchandise, with potential restocking fees for late refund requests.
Your Data security & privacy is our priority. Pay securely through 128 bit encrypted payment gateway. We support credit cards, net banking and debits cards.
Share
View full details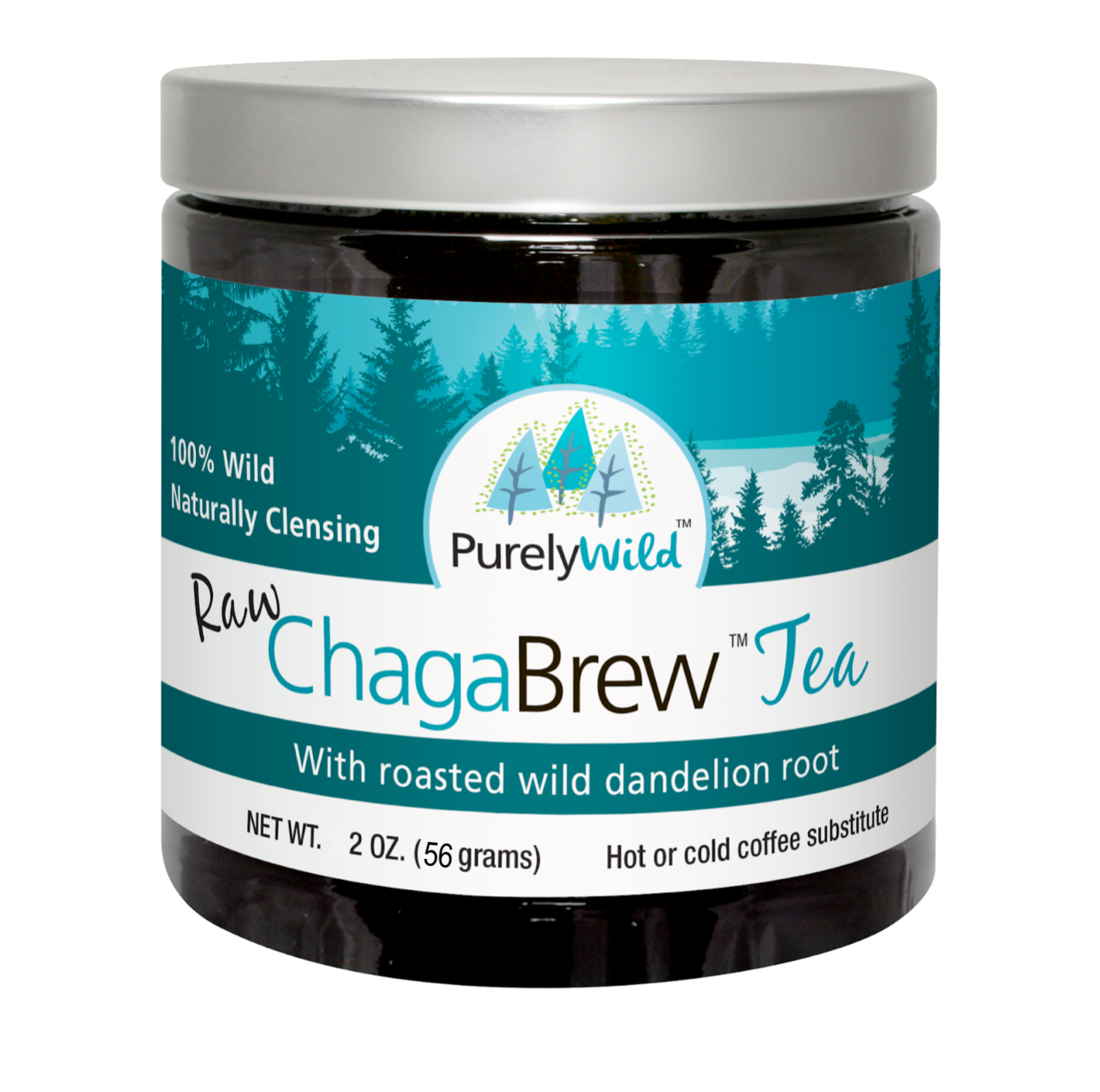 Ingredients
Purely Wild combines the potent properties of wild, raw chaga, and wild, raw birch bark, both harvested sustainably from nature. The chaga, known as the 'King of Mushrooms', is revered for its rich antioxidant content, while the birch bark adds a unique mix of compounds beneficial for health. Post-harvest, these ingredients are carefully roasted to enhance their flavors and to unlock their full wellness potential, providing you with a truly wild and natural health supplement.

Indulge in the rich flavor and potential benefits of roasted wild dandelion root. This invigorating ingredient supports healthy digestion and overall well-being.

From the bark of the tamarack tree (Larix laricina) that is harvested from its natural habitat without cultivation or human intervention. Tamarack, also known as the Eastern larch, is a deciduous coniferous tree native to North America. The bark of the tamarack tree contains various bioactive compounds that are believed to have potential health benefits. When harvested in its wild and raw form, the tamarack bark preserves the natural integrity and potency of these beneficial compounds.

Purple maca root is specifically recognized for its unique color and potential phytochemical profile. It is rich in antioxidants, vitamins, minerals, and bioactive compounds that may support overall well-being. Some studies suggest that purple maca root may have adaptogenic properties, helping the body cope with stress and promoting a healthy response to physical and mental fatigue.

In traditional Peruvian medicine, maca root has been used to enhance energy, stamina, fertility, and hormonal balance. Purple maca root, in particular, is believed to offer similar benefits along with its vibrant color.
Choosing a selection results in a full page refresh.
Opens in a new window.