Regular price
$34.99
Sale price
$17.49
Unit price
per
Sale
Sold out
Availability : 9 item(s) in stock!
Estimated delivery : Friday, 15 December - Saturday, 23 December.
Description:
IntestiMax supports the health of the entire digestive tract through the powers of wild, raw raspberry root.* Never available before, it is rich in tannic and ellagic acid this root extract is a super tonic, ideal for support health.* Take it also to support the hormone system.* It's a rare formula—raw, wild, and remotely harvested. Roots concentrate all nutrients. Take this raspberry root extract for your better health.*


Directions: Take at least a dropperful daily.


Ingredients: Wild, raw raspberry root extract, Apple cider vinegar, Wild, organic oregano oil, Clove bud oil, Cinnamon oil


Net Wt. 2 FL OZ. (60 ML)

Please note that these statements have not been evaluated by the Food and Drug Administration. This product is not intended to diagnose, treat, cure, or prevent any disease. As with any dietary supplement, it is advisable to consult with a healthcare professional before incorporating new products into your routine.
Purely Wild ships orders within two business days via UPS Ground, providing tracking numbers within 72 hours of order confirmation for easy monitoring of your shipment's progress. Purely Wild offers refunds within 10 days of purchase for undelivered, defective, or not-as-described merchandise, with potential restocking fees for late refund requests.
Your Data security & privacy is our priority. Pay securely through 128 bit encrypted payment gateway. We support credit cards, net banking and debits cards.
Share
View full details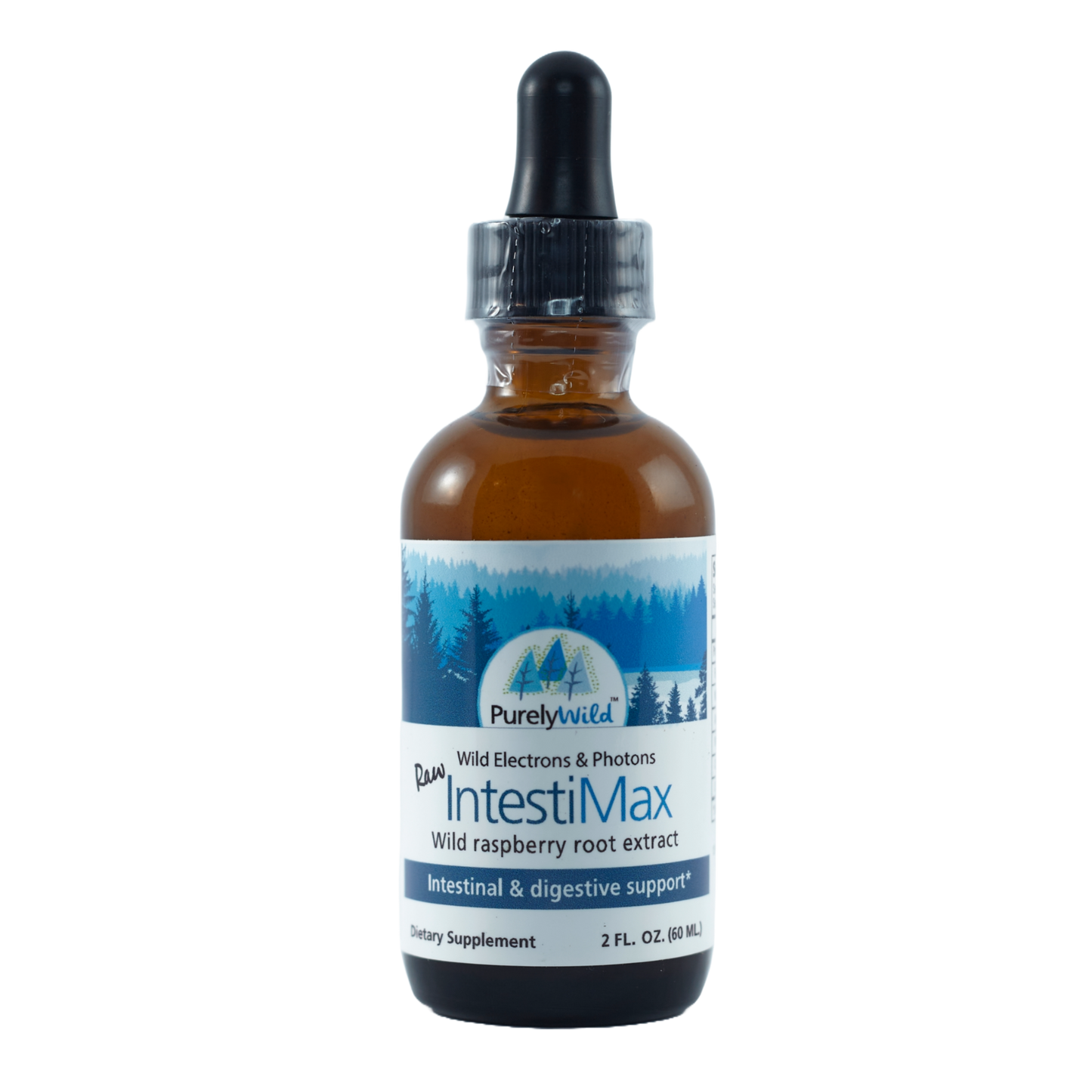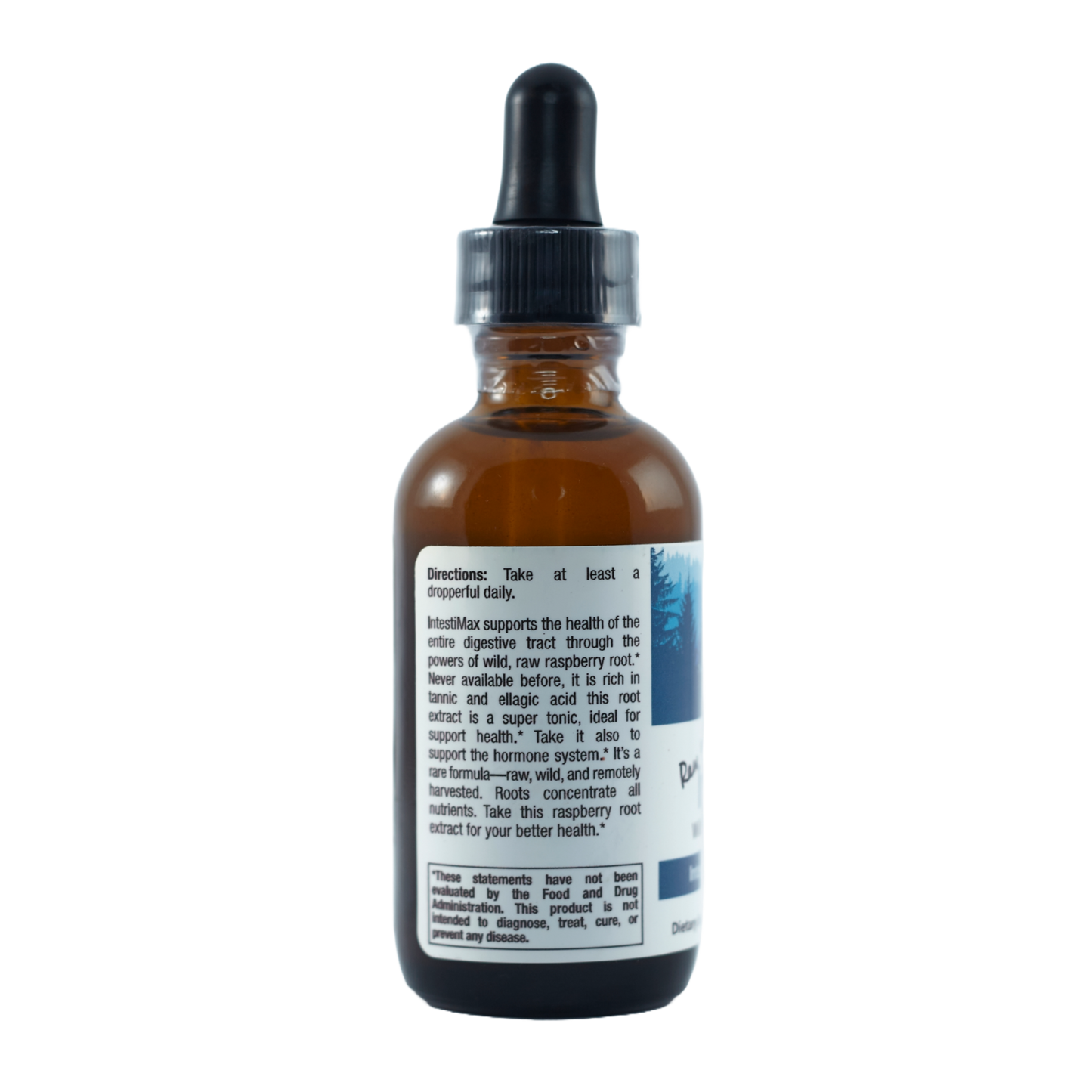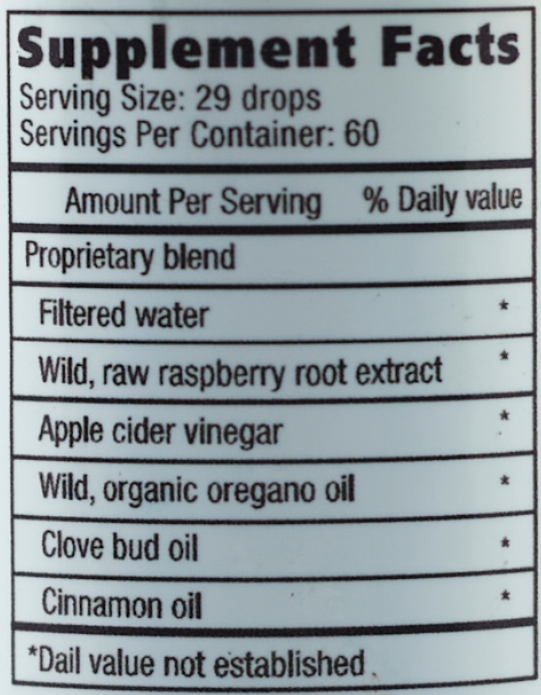 Ingredients
This extract is derived from the roots of wild raspberry plants, known for their rich tannic and ellagic acid content. Wild raspberry root extract is a potent natural tonic that supports the health of the digestive system and the hormone system. It offers a range of potential benefits, including digestive support and overall wellness. Incorporating this extract into your daily routine can help you harness the power of wild, raw raspberry root for improved health.

Made from fermented apples, apple cider vinegar has been used for centuries for its potential health benefits. It contains acetic acid and other beneficial compounds that may support digestion, weight management, and overall well-being. Apple cider vinegar is known for its tangy flavor and versatility, making it a popular ingredient in various culinary preparations and natural remedies.

Oregano oil is derived from the leaves of the oregano plant, which is rich in potent bioactive compounds like carvacrol and thymol. Wild, organic oregano oil offers a range of potential health benefits, including immune support, respiratory health, and digestive wellness. It has antimicrobial and antioxidant properties that may help combat harmful microorganisms and promote overall vitality.

Clove bud oil is extracted from the flower buds of the clove tree. It has a warm and spicy aroma and is widely known for its potential analgesic and antibacterial properties. Clove bud oil may support oral health, relieve toothache, and provide soothing benefits. Its natural compounds, such as eugenol, contribute to its therapeutic properties.

Cinnamon oil is obtained from the bark or leaves of cinnamon trees. It has a warm and sweet aroma and is commonly used in culinary applications and traditional medicine. Cinnamon oil contains beneficial compounds like cinnamaldehyde, which may support healthy blood sugar levels, digestion, and overall well-being. Its distinct flavor and potential health benefits make it a popular choice in natural remedies and everyday use.
Choosing a selection results in a full page refresh.
Opens in a new window.